Threatened Species Programme

In one of the continent's largest collaborative conservation projects to date, South Africa has become the first megadiverse country to fully assess the status of its entire flora. The Red List of South African Plants Online provides up to date information on the national conservation status of South Africa's indigenous plants.
The conservation status of plants indicated on the Red List of South African Plants Online represents the status of the species within South Africa's borders. This means that when a species is not endemic to South Africa, only the portion of the species population occurring within South Africa has been assessed. The global conservation status, which is a result of the assessment of the entire global range of a species, can be found on the International Union for the Conservation of Nature (IUCN) Red List of Threatened Species: http://www.iucnredlist.org
Contribute your observations of species of conservation concern to Red List Alert on iSpot
Did you know that one in four South African plant species is of conservation concern? Have you spotted one of them? Now you can notify the Red List team at SANBI's Threatened Species Programme of your find by adding your observation to the Red List Alert project on iSpot.
Red List Alert latest observations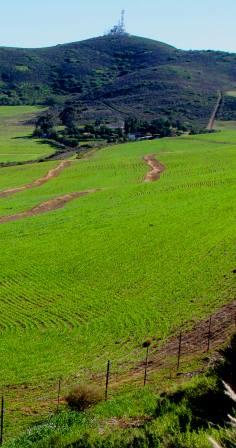 Welcome to the Red List of South African plants version 2017.1
The major habitats for threatened species have been refined to vegetation types as described in South Africa's National Vegetation Map. It is now possible to get a list of threatened species associated with each vegetation type, simply by typing the name of the vegetation type in the search box above.
Threatened species tend to be strongly associated with habitats that are extensively degraded or have been lost to other land uses such as agriculture, urban development or mining. The highest concentration of threatened plant species occur in Swartland Shale Renosterveld: 214 species in total, of which 25 are endemic to the vegetation type. Swartland Shale Renosterveld occurs on the low coastal hills and moderately undulating plains between the Piketberg and Olifants River Mountains, southwards to the Tygerberg and Sir Lowry's Pass near Gordon's Bay in the Western Cape. It is characterized by fertile, shale-derived soils highly suited to crop cultivation. As a result of extensive conversion of this vegetation type to crop fields, less than 10% of the original extent of Swartland Shale Renosterveld remains intact, predominantly in the form of small remnants, as pictured on the left. Many formerly widespread and abundant plant species associated with Swartland Shale Renosterveld have had their populations severely reduced by such extensive habitat loss, and they now persist only in small, isolated subpopulations confined to small habitat remnants.
Swartland Shale Renosterveld is also the home of the majority of species in Marasmodes, South Africa's most threatened plant genus. This Red List edition presents a complete re-assessment of Marasmodes - which was until recently very poorly known, and thought to consist of only five species. Extensive field surveys and taxonomic study revealed that there are in fact 13 species in the genus, and all have highly restricted distributions within the Western Cape's coastal lowlands - which contains most of South Africa's most threatened and poorly protected habitats. Of the 13 species in the genus, three are classified as Endangered, and the other 10 are all Critically Endangered, with one species, M. reflexa, possibly already Extinct.Click on the images on the right for links to the latest Marasmodes assessments.