Threatened Species Programme

In one of the continent's largest collaborative conservation projects to date, South Africa has become the first megadiverse country to fully assess the status of its entire flora. The Red List of South African Plants Online provides up to date information on the national conservation status of South Africa's indigenous plants.
The conservation status of plants indicated on the Red List of South African Plants Online represents the status of the species within South Africa's borders. This means that when a species is not endemic to South Africa, only the portion of the species population occurring within South Africa has been assessed. The global conservation status, which is a result of the assessment of the entire global range of a species, can be found on the International Union for the Conservation of Nature (IUCN) Red List of Threatened Species: http://www.iucnredlist.org
Contribute your observations of species of conservation concern to Red List Alert on iSpot
Did you know that one in four South African plant species is of conservation concern? Have you spotted one of them? Now you can notify the Red List team at SANBI's Threatened Species Programme of your find by adding your observation to the Red List Alert project on iSpot.
Red List Alert latest observations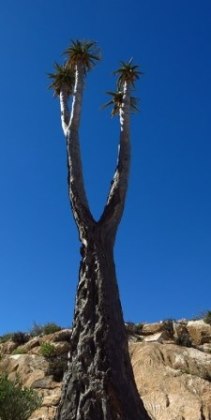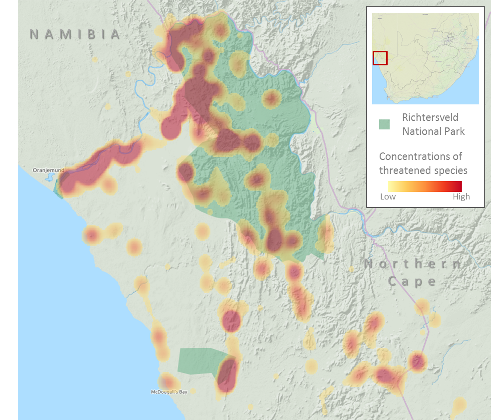 Welcome to the Red List of South African plants version 2015.1
For this Red List edition the focus was on the Richtersveld, an arid area on the north-western border of South Africa renowned for its exceptional plant diversity and endemism, globally recognised as a biodiversity hotspot. More than 300 endemic plant species are already known from the area, but many species new to science are still being discovered - more than 20 species just in the last five years - indicating that the region's biodiversity is far from fully explored. However, due to increasing threat from overgrazing, mining, and illegal wild plant collecting we are reporting increasing threat status for 100 endemic and near-endemic species. Threatened species in the Richtersveld are concentrated along the lower Orange (Gariep) River Valley between Alexander Bay and Sendelingsdrif, and the central mountain ranges, where most of the localized endemics occur (see map on the right). The iconic Richtersveld endemic, the Giant Quiver Tree (Aloidendron pillansii, pictured left) is classified as Endangered due to climate change-related population decline as well as overcollecting. Other Richtersveld endemics facing increasing risk of extinction (pictured below) includePteronia anisata (Endangered) and Cyanella marlothii (Critically Endangered), both recently rediscovered after being last recorded in 1962 and 1925 respectively. Both species are threatened by overgrazing. Euphorbia melanohydrata (Endangered), Strumaria bidentata (Critically Endangered) and Astridia speciosa (Critically Endangered) are localized to the lower Gariep Valley and declining due to habitat loss to mining and overgrazing. For a complete list of uplisted species, see the Summary of recent changes page.